Yazhan L. - Tutor
Actuarial science, Java, SQL, Python, and Statistics tutor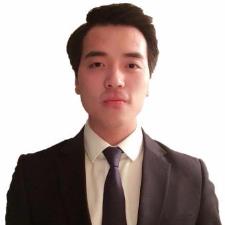 (12)

In-person + Online

Contact Yazhan L.

Your first hour with any tutor is always 100% refundable!
Personal Statement
First and foremost, I am an effective tutor. I graduated from New York University Stern School of Business with double majors in Actuarial Science and Finance and a joint minor in Computer Science and Mathematics. I am currently working as a Model Risk Specialist. I have passed 4 actuarial exams (P, FM, MFE, C) with only one attempt in each exam. For actuarial exams preparation, I am able to help students to prepare their exams in an effective way without providing them with overwhelming exe...
Reviews
I am an actuarial science graduate student and I needed Yazhan to help me with a long and complex life insurance project that required VBA coding on Excel. Yazhan was absolutely great! He not only had the ability to help me correctly code the VBA section of my project; but his expert knowledge of actuarial science and life contingencies in particular completely eased my explanation of my requirements for the project; and it also was instrumental in correcting my understanding of the requirements when I was wrong. Yazhan was very patient and took his time in answering all my questions. To top it all off, Yazhan made the time for me and my project at very short notice and within literally days to the deadline of submission. It was a group project, and my team members were not able to run a successful VBA code on our project's excel; and Yazhan was a godsend at that point. He's definitely the type who would take on your challenges if he can, and he will care about your needs. Yazhan is extremely personable and very genuine. The first time I met him, I went to the wrong address (mistake on my part), and Yazhan pushed up another session to make time for me to arrive at a later time and still get the hour and a half I signed up for that night; and best of all he didn't charge me for his time even though it was my mistake. He is an awesome tutor who will definitely help you with your work and help you learn.
- Khalifa A. from New York, NY
Yazhan is very patient, methodical and dependable. He has helped me with an Intro to Stats course that is very challenging since it is an accelerated course. He is able to find quick and simplified ways to solve problems and provides many examples along the way that are helpful. I have had a very positive experience and highly recommend.
- Sarah K. from New York, NY
Yazhan helped me learn SQL to prepare for an interview. I feel so much more confident in my skills after Yazhan's help and would 100% use him again. He was one of the MOST helpful tutors I have ever had and clearly explained all the information in a way that is easy to remember. Some of the concepts were hard to grasp, but Yazhan made them easy to understand and implement. He was also extremely flexible on when/where to meet which I really appreciate. Overall, it was a great experience and I recommend him to anyone needing help with coding!
- Marissa P. from New York, NY