Post Classifieds
How to Decorate Your Dorm Room to Make it Feel Like Home
Dorm rooms are known for being drab, but yours doesn't have to be! It's hard to make a lifeless shoebox of a dorm room feel like your new home. However, there are some decorating tricks you can use to make your dorm room feel like home. Your room will be your home for the next year, so it's worth investing time and money into it to make it feel like your own special place. When you take the time to make your dorm room special, the transition from living at home to living in a dorm will be much smoother, because your dorm will feel more like YOUR room and less like a generic room that everyone else gets. Without further ado, here are a few ways to decorate your dorm room to make it feel like home.
Choose a theme for your room
Choosing a theme for your room, especially if it's something that's definitely like you, will make your room feel much more like home. For example, purple and silver have been my favorite colors ever since I was little, so I decorated my room with purple and silver. I had purple bedsheets and silver furniture. It is an extension of my personality, and I love it. You should feel the same way about the theme you choose.
Your theme doesn't have to be a color, though. If you are a movie lover, decorate your room with movie posters! If you love music, you can display your collection of vinyl records. Get creative with it!
Choosing a theme that expresses your personality will cause your room to feel less like a shoebox dorm room and more like YOUR living space. Now that you've chosen your theme, you can incorporate your chosen theme into these next tips that I give you.
Hang up pictures of loved ones
When talking about decorating your dorm, the first thing many people will tell you is to bring pictures of your friends and family members. It's a popular suggestion for a reason! I love looking at the photos of my dog, my parents, sister, and best friend. Having these pictures will liven up a boring white wall, but it will also remind you that you have many people who love you back at home. As you make friends in college, you can even add some pictures of your new friends to the mix. For these reasons, I loved having pictures in my room, and I think you will love it, too.
You can even hang up your photos in creative ways! It's a great way to express your unique decorating style. I hung my photos up with clothespins on a line of tweed, and it was very pretty! You might want to try something different, though, like pinning them up in a geometrical pattern or to form a geometrical shape (like a square or heart). Or, if you want to make things simpler, you could even tack them onto a bulletin board. Use these cute photos as a way to express yourself, and your room will feel more like home.
Put up wall decorations
Continuing off the theme of hanging pictures on your wall, you can hang up other wall decorations! For example, you can hang up a poster of your favorite band, movie, or work of art. Seeing a poster of something you like will make you happy. I brought a poster of my favorite band to my first dorm room, and it definitely livened up the space. This is especially true if the poster is brightly colored, or goes with the color scheme of your room.
If your residential college allows, you can also hang up Christmas lights. They bring a nice, subtle glow to your room, and will definitely make your room look fancier.
Create your own decorations
If you are the artsy type, you can create your own decorations! (Remember what I said about choosing a theme? Displaying your own art is a great theme choice, especially if you are passionate about art.)
Pinterest is a gold mine for DIY art project ideas, especially simple, cheap projects that are perfect for busy, broke college students. Spend some time searching for ideas on there, and you're bound to find something you like that can be turned into a beautiful décor piece. It doesn't even have to be a painting or a drawing. You can make a dreamcatcher, a picture frame, or your own bulletin board. It's up to you, and that's the beauty of it!
Keep some plants…
You can't have pets in a dorm room, but plants are the next best thing. If your residential college allows plants, consider buying one. They are not only really cute and give your room a pop of green, but it will also give your room life. There's something so satisfying about watching the blooming of a plant that you've cared for since it was a seedling. As a busy college student, keeping a little plant alive is something to be proud of.
Before you get a plant, though, find out if they are actually allowed in your room. Once you have confirmed that you can have a plant, do your research to find out which plants are best for your room. Does your room face the sun? Then don't get a plant that doesn't like sun (yes, there are plants that prefer shade over sun!). Conversely, don't get a plant that needs sun if your room is in the shade. I would also recommend getting plants that you don't have to water often, just so that you don't have to add another thing to your "to do" list. Either way, plants are a great way to liven up your room!
…Or even a pet fish!
Plants are great, but sometimes it's nice to have something a little more animated. If your residential college allows it, and if you have the time and budget for it, consider getting a pet fish. They are not only pretty, but they can liven up your space, too, just like the plants. However, please be extra sure that you have the resources to take care of this fish. Do your research and learn what this unique pet will require from you, and be willing to provide these things, which might include routine feedings and regular tank cleanings. The last thing you will need to have a pet fish die on you! Yes, having a pet fish is great, especially in a dorm room, but be sure you can care for it before you head out to your nearest pet store.
Get a Keurig
If you are a coffee lover like me, having a Keurig in your room definitely makes the room homier. With a Keurig, you can even make the same drinks you would make back at home. I find that making the same drinks is very comforting.
Even if you're not too into coffee, you can also use a Keurig to make tea or hot chocolate, which is just as yummy and as comforting, especially after a long day of studying.
Of course, some residential halls don't allow machines like Keurigs, so just be sure you are allowed to have it before you spend your money on it.
Make the most of organization
Dorm rooms have a reputation for being very small. This means you will have to get creative in order to store all your stuff in your tiny room. Thankfully, there are so many new storage solutions that will help you keep your things organized and sometimes, even out of sight, which will make your room look minimalistic and clean. Having something as simple as an under the bed storage, or a storage cube/ottoman will make your life much easier, as you will have more places to keep your things organized.
Visit your nearest furniture store, or even your nearest Target or Walmart, and keep an eye out for cute storage solutions. Or, in the spirit of a previous tip, build your own storage unit! It'll be custom made for your room and will go perfectly with your theme, because you made it. Having a cute ottoman or storage cube will definitely make your dorm room seem more like you.
Bring some pieces of home with you
If you can, try to bring some of your décor or room necessities from your home bedroom. For example, if the bed is the right size, you can bring your comforter or bedsheets. You could also bring a favorite stuffed animal (I know I certainly brought my favorite stuffed animal with me!). Having some familiar pieces of home with you will definitely make you feel more comfortable in your new dorm.
Include some comfy furniture pieces
Your home should be a comfortable place, so you should think of ways to make your dorm room more comfortable. For example, you can get some comfy, fluffy bedsheets and pillows. You could also get a comfy chair or fluffy rug. You can choose strategically colored furniture to go with your theme. But don't make it too comfy, or else you won't want to leave your room!
Add extra lighting
Dorm rooms have a reputation for having sub-par lighting, which makes it very hard to study. Your desk lamp alone will not cut it. Consider getting another light source, like a floor lamp, a better desk lamp, a rope or string light, or a pendant lamp to enhance the lighting in your room. You will thank yourself when you are studying and you can actually see your book! Just make sure you don't start a fire with these beautiful new lights.
Add a mirror
Mirrors can make a space look much larger than it is. Having a mirror will not only make your room feel bigger, but it will also reflect light, making your room even brighter, too! Placing them near a light source, like a window or your lamp, will enhance its effect.
In conclusion…
Your dorm room will be your base of operations for at least the next year, so take the time to make the bland shoebox of a room into your new home. You'll be much happier coming back to a cute room every night than a plain white dorm. Here's what you can do to make your dorm room more like YOUR room.
First, pick a theme that is totally you. Once you've done that, you can base the rest of your decorations on the theme of your choice. Your theme can be anything from a favorite color to your favorite hobby. As long as it screams "YOU," it can be your theme.
Then, hang up pictures and wall decorations that go with your theme. It can be posters of your favorite band or movie, your own original artwork, or a picture you thought was pretty. Anything goes, if it makes you happy.
You can also search online for DIY room décor project ideas. You never know if that's how you will create your new favorite statement furniture piece!
For additional comfort and homey-ness, keep some plants. Cute, little plants will liven up any drab living space. It's also very satisfying to have another living thing in the room with you.
Also, you can certainly buy or make some comfy furniture. Nothing beats sitting in a comfy chair in your room, drinking hot chocolate made from your own Keurig (that, of course, you made sure you were allowed to bring!). Neither you nor your friends will want to leave!
Don't forget to buy extra lighting, since the desk lamp the room comes with isn't good enough, and a mirror that will enhance this new light and make your space look bigger.
All in all, spending the extra time and money to personalize your dorm room is worth it. The transition from living at home to living in a dorm will be much ea
Discuss This Article
More Uloop Fashion Articles
COLLEGE HOUSING LISTINGS
See all COLLEGE Housing Listings
GET TOP STORIES DELIVERED WEEKLY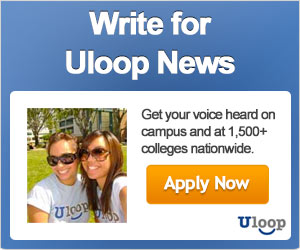 TOP 5 NEWS ARTICLES