Post Classifieds
10 Best Study Snacks to Eat While Reviewing Class Notes
As the semester takes off to a quick start, it's time we all begin stocking our pantries with enough study snacks to last us through our first round of testing. One of the worst feelings for a student is being on a studying roll, where you really feel like you're grasping the concepts, when you hear a belly roar. Suddenly, your brain reminds you that it's time to eat. But you don't want to walk away from the most productive study session of your life. What should you do?
If you have these 10 study snacks on hand at all times, you'll be able to continue studying while silencing the hunger monsters in your stomach. Whether you're looking for something healthy, or something to give you comfort, you'll find something on this list!
1. Apple slices with peanut butter.
Personally, this is one of my favorite "go-to" snacks. I keep apples and my favorite peanut butter on hand at all times to make sure I have it when I'm in the mood for something acidic and smooth. Apples are delicious, but when you eat them plain, they can get old after a few bites. Coupling them with peanut butter is the perfect addition!
**If you don't like apples, add peanut butter to another fruit — like bananas! It's easy to use a knife to slide a scoop of peanut butter onto your next bite before it enters the chompers.
2. Cheese stick.
Some people tear it into strings, some people eat it like a banana, regardless of how you enjoy your cheese, it'll fill your hungry tummy while you're studying. You'll want to make sure you don't eat an entire bag of cheese sticks — maybe limit yourself to one or two. If you're still hungry after that, you should supplement your snack with another food group.
3. Oatmeal.
You can't go wrong with this timeless classic. Oatmeal comes in various flavors, and you can always add in what you're graving — raisins, honey, brown sugar, etc. This study snack is one you absolutely cannot go wrong with having! A splash of milk and a quick turn in the microwave will put it at the perfect consistency and temperature for a quick snack!
** If you're looking to shop snacks on a budget, oatmeal will absolutely do the trick.
4. Eggs – scrambled, hardboiled, or sunny side up.
Eggs are cheap and quick to fix. If you need something to sustain you through a few more chapters – this will do it!
5. Yogurt and granola.
Here's a good way to spice up your yogurt — add granola to give the smoothness some crunch and extra flavor. I love adding honey, raisins, and granola to my cup of yogurt. However, if you let the granola "soak" in the yogurt too long — it'll be soggy! If you're trying to stay healthy — this is a great snack.
6. Instead of candy, try dark chocolate.
Dark chocolate has more antioxidants than milk chocolate, and, in small doses, it's actually kind of good for you! If you need just a little something to give you a kick-start while studying, grab a square of dark chocolate and enjoy!
7. Larabars.
These awesome granola bars will really fill you up while you're studying. They'll not only tie you over to the next subject – you might be able to make it to the next meal! They come in all kinds of flavors. However, they're a bit on the pricey side, so be prepared to whip out your credit card.
8. Instead of soda, try hot tea.
You can get tea in a variety of flavors. You might like green tea or fruity teas, or maybe you're into something that'll calm your nerves, like chamomile. If you think it's too bland, one packet of sugar never hurt anyone.
9. Instead of ice cream, try frozen yogurt.
It might not be the perfect replication of ice cream, and it's definitely not super healthy, but it's much better than diving into your favorite carton while studying "Anatomy and Physiology."
10. Instead of the late night drive thru, make yourself a baked potato.
Sure, you can put some butter and cheese on your potato to make it taste a little better. But in the middle of your late-night study session, when you cave and go through a drive-thru, you're allowing yourself to take six steps back on the healthy train and you'll probably make yourself feel like crap. Instead, heat up a baked potato in the microwave and devour it — skin and all. I promise you'll have a full tummy after that!
Study snacks are handy and should be kept within reach of your favorite study spot. Whether it's apples or just spoonfuls of peanut butter, whatever you choose to hold you over until your grumbling tummy quits, you'll be glad you don't have to interrupt and ruin your rhythm. These ten study snack ideas will help you achieve optimal academic results!
Discuss This Article
More Uloop Food Articles
COLLEGE HOUSING LISTINGS
See all COLLEGE Housing Listings
COLLEGE Test Prep Listings
GET TOP STORIES DELIVERED WEEKLY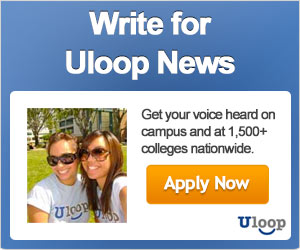 TOP 5 NEWS ARTICLES