Post Classifieds
What to Buy your Tutor for the Holidays
The holidays are fun for so many reasons; you get to be with friends and family, work and school are much more relaxed, you get to eat yummy foods, you get to exchange presents, and much more. However, the holiday season is a great time to thank your loved ones and those people who have helped you throughout the year.
Academic tutors are often the unsung heroes of college, and it's important to show your tutor/tutors how grateful you are for helping you boost your grades. The easiest gift is obviously a monetary bonus, but I personally think that actual gifts are more fun, more personal, and show them how much you care and appreciate them. The list below are some cute holiday gift ideas for the unsung heroes of academics!
Coffee Mugs
Coffee mugs are great gifts because they can be used for other things besides coffee; I have a coffee mug on my desk that says "Stay Weird" and I use it to hold my pens, pencils, highlighters, and scissors. The best part about getting your tutor a cute coffee mug is that you can find them on websites like Amazon, Etsy, and Zazzle for such amazing prices! For example, if your tutor is a nurse, get him/her a funny mug about nursing. Little gestures like this show that you listen and that you care about your tutor and what he/she has to say.
Books
One of the best parts of Winter break is curling up in your bed or on the couch with a great book. Your tutor will love it if you get him/her a book (or books, depending on pricing) that they can dive into during their time off. You can go with a more classic novel, or go for some of the more recent books that have come out in 2017. After doing some research, here is a great list of books that you can buy for your tutor off of Amazon or at any other bookstore for great prices!
Fun Home by Alison Bechdel
Turtles All the Way Down by John Green
Interpreter of Maladies by Jhumpa Lahiri
All the Light We Cannot See by Anthony Doerr
Wonder by Raquel Jaramillo
What Happened? by Hillary Clinton
4321 by Paul Auster
Notebook
When I say notebook, I am not talking about a college-ruled spiral notebook. I'm talking about a notebook that is decorated with cool colors and patterns and has cool sayings. Organization is key, especially when you have to juggle work and a tutoring schedule, so a small notebook is a great organization tool and it's also pretty! You can find cool notebooks on Amazon, Urban Outfitters, Etsy, and Anthropologie. If you are able to, you can even include a fun pen so that it's more of a set rather than one item.
Wall Art
Different types of wall art and cute little signs with fun sayings on them are always great gifts (I've given so many of these sorts of things to my friends and family and they are always a huge hit with them). I personally love Primitives by Kathy signs and décor, but if you type in "cute wooden wall décor signs" into the Amazon search box, you will have thousands of affordable options to choose from. You can also check out websites like Ebay for these sorts of items! Side note: I am writing this article in my room right across a wooden sign that says "You Can Never Make Too Much Happy."
Gift Cards
During your tutoring sessions, I have no doubt that you and your tutor have talked about your favorite restaurants, your favorite stores, your favorite coffee shops, etc. Even though a gift card may not seem like a big deal, getting your tutor a $10 gift card to his/her favorite restaurant or store will make them smile and will allow them to treat themselves during the holiday season! The best part about giving a gift card is the note you write with it. For example, if you are giving your tutor a Starbucks gift card, you can write, "Use this to buy two [insert favorite drink name here] on me. Happy holidays!"
A small, personal gift will go a long way with your tutor and, even though it's always nice to have some extra pocket money, they will be happier with a personalized gift because it shows that they have become part of your life and that you've taken the time to get to know them! It's always great to receive gifts, but seeing the smile on a person's face when he/she sees that you took the time to think about them during the holiday season is more rewarding and more exciting than any gift you receive. Happy holidays to all of my readers!
Discuss This Article
More Uloop Fashion Articles
COLLEGE HOUSING LISTINGS
See all COLLEGE Housing Listings
GET TOP STORIES DELIVERED WEEKLY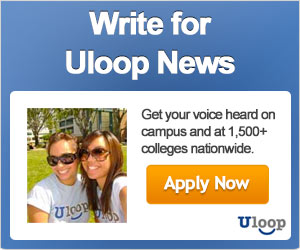 TOP 5 NEWS ARTICLES