Post Classifieds
Fenty Beauty by Rihanna
On September 8, Rihanna broke the internet with the release of Fenty Beauty.
Leading up to this historic moment Rihanna released a promo video to get fans and potential buyers excited about what was to come. Rihanna's video included women of all races with a wide range of skin tones. Some familiar faces you may recognize from her video are models Duckie Thot and Slick Woods.
With the release of Fenty Beauty came 40 foundation shades.
Believe it or not, releasing 40 foundation shades isn't a norm in the beauty industry. There are shades in her collection as light as an albino complexion to the deepest of dark. Finally, there is a chance for women and men around the world to purchase a foundation that they thought they would never find.
Krystal Robertson, an albino woman, posted on her Instagram (@acondria) the excitement that she felt when she tried the foundation. Her post went viral and was reposted on the Fenty Beauty website; she even received a follow on Instagram from Rihanna.
"Soooo, I had a small freak out today. My neck and face finally match each other. Trying out the Fenty Beauty foundation and primer today. Didn't realize I was this light … Loving the feel of the foundation so far tho. Also, I'm albino. I have no pigment so it can be hard to get a nice match, always end up orange. Now I'm rethinking all those times I went orange."
Fenty Beauty has received an endless amount of positive press over the past few weeks. Rihanna has been the topic of discussion on every YouTube video and beauty blog.
Aside from her iconic foundation, she has highlight and contour sticks, a lip gloss, blotting powder and blotting paper, as well as 16 highlighters also known as Killawatts.
When it comes to the highlighters, these are second best in the collection. The shade "Trophy Wife" is literally to die for. It's a sparkly yellow-gold shade that complements many skin tones. Girls everywhere are raving about this show-stopping color. The only issue that people seem to have with it is that it's too blinding. Who would have thought?
De'arra Taylor, from YouTube channel DK4L with over a million subscribers, makes it a priority to order every piece of Fenty she can get her hands on. In almost every vlog she is wearing or buying something new.
In the vlog titled "Surprising My Girlfriend with Fenty Beauty," she was shocked when her boyfriend was able to surprise her with the Trophy Wife highlight. She reacted by saying, "They had it?!" And yes that's a surprise because it's almost a month later and it continues to sell out in stores.
The second best highlight in the running is Moscow Mule/Ginger Binge. These two shades appear to be very pink in the pan but when applied have specks of gold peeking through. The two shades look great on darker skin tones but have been proven to complement light and medium skin tones as well.
Salina Kamara, 21, from San Francisco, was amazed when she tested the product out in Sephora. She thought the color would appear too pink or dark on her brown skin tone.
"I'm really shocked that I like this. It looked cute online but I couldn't really tell just based off of the color in the pan. Now that I tried it, I have to buy it online. It's literally sold out in stores," Kamara said.
Aside from the positive feedback Rihanna has been receiving on her beauty company, she has also been in the spotlight for her Fenty Puma collaboration. Many people are familiar with this collaboration mainly because of her famous Fenty Slides and Creepers shoes but she has so much more to offer.
When a new shoe releases, it's sold out in minutes. By now almost everyone should own the infamous fur slides. The latest colors available are pastel shades in blue, purple, and green. And the creepers continue to level up in height by adding a new platform or two.
Fenty University, the name of her newest collection, resembles a school varsity team. Her logo is very simple; it's the letter "F." Some examples of the types of clothes are cropped polos, oversized jerseys, and sweatpants.
Fenty University, or even Fenty as a whole, may not be for everyone. The prices vary from $30 for a choker to $1,200 for over-the-knee boots. It's kind of crazy when you think about it but who wouldn't want to look like they attend Fenty University?
Rihanna remains humble throughout all of her success. She consistently says that she does everything for her fans and creates things that girls of all skin tones can fall in love with.
"I wanted things that I love," Rihanna said. "Then I also wanted things that girls of all skin tones could fall in love with."
Discuss This Article
More Uloop Fashion Articles
COLLEGE HOUSING LISTINGS
See all COLLEGE Housing Listings
GET TOP STORIES DELIVERED WEEKLY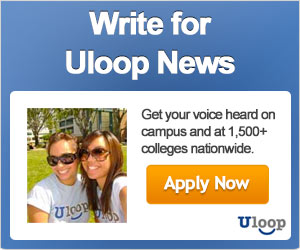 TOP 5 NEWS ARTICLES