Post Classifieds
15 Free Apps Every College Student Should Have on Their Phone
Since their creation, cell phones have rapidly become more and more integrated into the daily lives of people. This might be even truer when it comes to college students. According to a research study done by the Journal of Behavioral Addiction, college students reported being on their phones for nearly 10 hours each day.
With that study in mind, it becomes clear that cells phones play a significant role in a student's life. It's not hard to see why. College students stay busy. From classwork to part-time jobs to internships, students need to be able to juggle it all and cell phones can help. How so? The answer to that is "apps."
Apps can be used to enhance a student's experience in college, reduce stress, help with time management, save money, and make studying easier.
Here is a list of 15 free-to-download apps that can help you do all of the above and more during the new school year.
App #1: Your School's App
Price: Free

Available for: Usually for both Apple and Android
In my opinion, having your school's official app downloaded onto your phone can make your days in college a little more manageable. For example, the app for Florida State University has a wide selection of things to check out on its app. It has in-app real-time bus tracking, the ability for students to view their class assignments, lots of information on athletics, and much more. Your school's app should have everything you need to keep you informed on everything happening on campus.
App #2: Mint
Price: Free
Available for: Apple and Android
Every college student needs a budgeting app to track where and how money is being spent. Mint offers users the ability to create a budget plan plus fun and easy methods to help you stick to that plan. It also has bill tracking and it even lets you check your credit score for free!
App #3: My Study Life
Price: Free
Available for: Apple and Android
If you'd rather have a virtual planner handy on your phone or tablet rather than a traditional paper planner, this app is perfect for you. It allows you to add plans for anything right into the easy-to-read calendar. Set reminders for exams and homework that's due to stay on top of every class!
App #4: Lyft app
Price: Free to download (promo codes for free rides available)

Available for: Apple and Android
Lyft is the taxi app that can get you where you need to go for a cheap price. Much like Uber, Lyft lets drivers use their personal vehicles as taxis to pick up passengers and drop them off at their destinations. It's an easy way to get around town if you don't have a car and need to get there fast. If you do have a car and need a little bit of extra cash, signing up as a Lyft driver might be a great side job for you.
App #5: Google Drive
Price: Free
Available for: Apple and Android
Store as many documents as you could possibly need on Google's online flash-drive app. Users can share documents with friends, classmates, and professors right from their phone and view documents that have been shared with them. This could be very useful for group projects or an easy way to have homework stored online.
App #6: Chegg Textbooks & Study Help
Price: Free to download
Available for: Apple and Android
Chegg is one of the most popular names in the world of college students. Known as the cheap website to use to purchase or rent textbooks for class, Chegg the app continues to offer this service plus live tutors to give you help in subjects that you might be having trouble with. Another cool thing is if you find yourself stuck on homework, you can take a picture of the problem and have someone give you an answer in just a few short hours. No more pulling your hair out over homework!
App #7: Quizlet
Price: Free
Available for: Apple and Android
Quizlet is a cool app that lets you create and share quizzes, flashcards, practice tests, and more fun studying tools with the rest of the world. You'll also be able to access your Quizlet account from your desktop or laptop by visiting their website online.
App #8: RetailMeNot
Price: Free
Available for: Apple and Android
Love to shop? RetailMeNot can save you money. This handy app has promo codes for online shopping and barcodes that cashiers can scan at the register and it's all in one place. You can save time that you would use scouring the internet to find coupons and student deals and instead have every coupon you need right at your fingertips.
App #9: Memrise
Price: Free (More features are available for purchase)
Available for: Apple and Android
Does your major have a foreign language requirement? Do you plan to study abroad in a country where English isn't the first spoken language? Memrise offers fun and often challenging exercises to teach you a new language.  You can use this app to start studying now and get some extra practice in between classes so you'll feel like a pro in no time.
App #10: GrubHub
Price: Free
Available for: Apple and Android
Saturday night rolls around. You have half a loaf of bread and a pack of ramen noodles left in the pantry. Besides a ramen noodle sandwich, your at-home food options are looking pretty slim. Why not order something from your favorite local restaurant and have it delivered to you?
That's right; even if the restaurant doesn't offer a delivery option, GrubHub workers will go pick up a meal that you customize and order on their app and deliver it right to your dorm or doorstep for the price of the food and a small delivery fee. Foodies, rejoice!
App #11: Instacart
Price: Free
Available for: Apple and Android
I've mentioned this magical service in another post of mine because I love it so much. If you don't have a car or simply don't have the time to go to the grocery store, you can use this app to have groceries and household goods delivered right to your door.
All you have to do is add items from one of the listed stores into your virtual cart. A person hired by the company then goes to the store and picks up everything you ordered. In no time at all, that person will arrive at your front door with your groceries. This service also allows you the option of adding substitute items, just in case the store is out and your shopper has to choose an alternative.
App #12: Spotify
Price: Free (subscription to access more features is available for purchase)
Available for: Apple and Android
Long bus rides and jogs around campus are best enjoyed with some good music. Spotify offers thousands and thousands of songs made by artists from all over the world. You can even download music directly to the app so you can listen to your favorite songs without being connected to Wi-Fi if you're a premium member.
Never fear; as a college student, Spotify offers you a discount on premium membership, meaning you'll only have to pay $5 a month to listen to music without ads.
App #13: EventBrite
Price: Free
Available for: Apple and Android
Wondering what events are happening on campus and in the city? EventBrite gives you information on upcoming events near you, keeping you updated on which concerts, shows, plays, and more are coming into town.
App #14: Waze
Price: Free
Available for: Apple and Android
This fun and colorful GPS app gives you a heads up on traffic and helps you avoid police and road hazards, thanks to other Waze users who share information with the rest of the Waze community. It's more fun than the standard GPS system your phone has pre-installed on it.
App #15: Circle of 6
Price: Free
Available for: Apple and Android
It's important to remember that even though college is meant as a fun experience, you can't forget to remain safe. One app that can help you stay safe on campus is an app called Circle of 6. It lets you add six friends who live in your vicinity to a list of people you can contact in case there is an emergency. You can send out pre-written messages to this group with a single tap or, if it's a more serious emergency and you need immediate help, you can quickly call 911 and a number of other national hotlines Using this app will allow you and your chosen group of contacts to stay in constant touch with one another to give you an added sense of safety.
Discuss This Article
More Uloop Technology Articles
COLLEGE HOUSING LISTINGS
See all COLLEGE Housing Listings
COLLEGE Test Prep Listings
GET TOP STORIES DELIVERED WEEKLY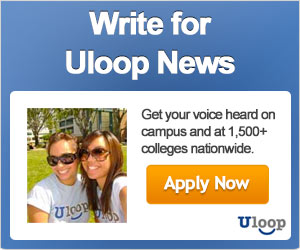 TOP 5 NEWS ARTICLES