Post Classifieds
9 Tips to Ace the Interview
Everyone knows that searching for a job is a job within itself: perfecting resumes, the perfect interview outfit, pre-interview jitters, time-consuming online or in-person applications, and more. We all can probably agree that job seekers should be compensated at least your state's minimum wage for the effort.
But why does the interview process have to be so nerve-wracking? There is a healthy bit of nervousness that is associated with not knowing the outcome of things when you will know you'll be employed by the end of the week or will still have to continue your job search. Whether we aim to be a Starbuck's barista or a CEO of a fortune 500 company, part of adulthood is having a resource that allows you to earn an income.
However, before we wish to hear the words, "Congratulations, and welcome to the company," there's a step we must take: the job interview. Job interviews allow prospective employees and employers to meet with each other, discuss the role of the position you're applying for, and give prospective employees the opportunity to see if the job they're going after is right for them at all.
Many people will not mention this, but no, the job interview isn't solely about some guy behind a desk picking you apart but is also a chance for you, the prospective employee, to have an opportunity to learn more about the responsibility you may wind up taking.
Any job is a responsibility, whether you are the counter person at the neighborhood delicatessen or the key holder of the showroom at the BMW building in New York City. You're going to play an important role and congratulations for taking the first step!
Below are some tips to help you ace the interview.
1. BE ON TIME
Honestly speaking, no matter if your interview is Monday morning or Saturday afternoon, you should always arrive a few minutes before the scheduled interview time. For example, if your interview is scheduled for 3:00 p.m. try to arrive by 2:45 and if you need to reschedule or if for some reason you are late, ALWAYS give a courtesy call to the employer.
2. DRESS PROFESSIONALLY
Sneakers and jeans are a NO GO for interviews even if you are applying to Footlocker. Comfy low heels or flats are the best choices for the lady candidate. No cleavage or skirts that are too short and nothing you'd wear on a date or a night out. Slacks that aren't too tight or skirts at or below the knee are always a good choice.
Makeup is always best subtle and hair always groomed and away from the face. For folks with bolder hair styles, embrace it if you would like — just make sure it's neat.
Guys, dress shoes, slacks with your shirt tucked in, and a tie is always your best choice. Again, long hair pulled away from the face and jewelry should be kept simple. Colors such as gray, black, navy blue, or white are always best.
3. BE PREPARED
Always bring with you at least two copies of your resume and cover letter, a pen, and of course any certifications, degrees, or portfolios that may pertain to the job. Study your resume and go over your qualifications so when asked, you can speak confidently about your successes so far. Also be sure that your resume is neat, in chronological order, and is free of grammatical error. Try to avoid using colorful paper and fonts.
4. KNOW YOUR EMPLOYER
It's incredibly important to know something about the company you're applying for, big or small. Applying to be a server at a family owned bakery? Take the time to Google search how long the company has been in business and who their target audience is. The same can apply for larger companies. You never know, you may be asked a question pertaining to your knowledge about the company.
5. THINK ABOUT YOUR RESPONSES
You may be asked a question such as this: "So, why do you want to work for [company name]?"
NEVER EVER let your reply be something like, "I need a job" or, "Because I need to make money."
Replies such as those are a surefire way to sink your interview. Instead, think about why you applied for the position. What about the company was appealing to you? How can you be an asset to the business?
6. SILENCE YOUR CELL PHONE/CELL PHONE ETIQUETTE
Put your cell phone on silent when you reach the building where your interview is to be held. You do not want your ringtone to go off in the middle of an interview. Always try to bring a book, magazine, or newspaper with you to have something to read/look at while waiting for the interviewer.
Avoid texting, social media usage, or taking personal calls during and while you're waiting to be interviewed. Also turn off iPods or other electronic devices as well.
7. SPEAK CLEARLY
Relax and speak as clearly and as confidently as you can. Just as you're being interviewed, this is your opportunity to learn about the company also. Ask questions if you have any.
8. GRATITUDE
Wait at least 36 hours after the interview to send a "Thank you" email or card for the opportunity to interview. Keep it professional and brief.
Try using the following template:
"Thank you for meeting with me to discuss the open position for [insert position] on [insert date]. I look forward to hearing back from the company. Best, [your name]."
Doing this can add a unique touch that makes you stand out.
9. RELAX
Tip nine probably should have been tip number one but in any event: R E L A X. Do not stress yourself or give yourself added anxiety for no reason. Anxiety is a fear of things to happen that may NOT even happen. Keep in mind that your resume stood out enough for you to land yourself an interview. Let that be enough to kick those nerves out the door!
With these tips, you'll be sure to ace your interview and land the position. Best of luck!!
Discuss This Article
More Uloop Business Articles
COLLEGE HOUSING LISTINGS
See all COLLEGE Housing Listings
GET TOP STORIES DELIVERED WEEKLY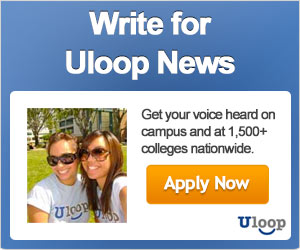 TOP COLLEGE NEWS