Post Classifieds
How to Juggle Multiple Internships
For many college students today, a very important part of the education process is completing an internship. Law, medical, engineering, and social science students are often required to complete an internship before graduation. It is a way to gain work experience, sometimes with pay and sometimes without pay, and to get a practical feel for what one is being educated to do long term.
Nowadays, an increasing number of employers are looking for candidates who have a reasonably wide range of experience and a varied set of skills. Technology continues to move at an exceptionally fast pace and employers are looking for employees who can adapt to change quickly, keeping their company on the cutting edge. In short, the more experience, the better.
Getting multiple jobs offers is a good thing. You send in a resume to the companies you've chosen as a good fit for you and you wait for them to respond. Soon you get one good response, and then another, and then perhaps another. Suddenly, you move from having your fingers crossed so tightly they're numb to almost not knowing whether to accept them all or politely decline a few.
Well, here is where some tips might help in making the decision to take on multiple internships or whether you are better off sticking with just one.
The Experience
Who doesn't need more experience to stay relevant and marketable? College career departments and the media do their fair share of pushing the message that more experience is always better. It is not only better but also a necessity. You cannot go wrong with multiple skill sets and backgrounds.
When I was a college student and even before then, I was able to gain experience in a host of different things: writing, editing, proofreading, human resources, publishing, marketing, sales, customer service, payroll, management, operations, broadcasting, tutoring, daycare, media development, and social media management.
You can imagine what this makes me: more marketable and employable. Every skill you can gain is something to add to your resume. And while you may not use every skill right out of college, you will at least have it for when the time comes.
The Networking
Here's the deal, every internship opportunity comes with two things: the space to meet new people and the chance to build relationships. It's that simple. The old adage "it's not what you know but who you know" is still true to some degree.
During my college years, I lacked the opportunity to build any real relationships. Luckily, my skill set and experience helped to compensate for some of this loss. If you are a good intern, the relationships you build at your internship site can go with you throughout your life.
Over time, you get to know other people and you build trust and rapport. Supervisors feel more confident writing up a recommendation for you. Co-workers are more willing to help you advance in your career.
The Quality
Every organization you agree to work for deserves your best. Let's be honest: if you have one paid internship and one unpaid internship, you are most likely to give more time and attention to the paid internship because you are receiving something in return for your labor.
In the same way, if one internship offers you 20+ hours a week and another internship only offers you 10+ hours, you will receive the opportunity to work on more projects, develop stronger relationships, and feel more like part of the team in the former than in the latter.
The same argument is often made about multi-tasking and double majors. As a double major in college, I'm a little biased to this opinion but I agree that no two things can absolutely receive equal time and attention. You will end up devoting more time to one or the other. Choose wisely.
The Balancing Act
Just think about it — a full course load, extracurricular activities, church and/or charity work, family obligations, and more than one internship — it's quite the balancing act. Given that we're not as superhuman or powerful as we would like to be, it is logical to think that at some point or another, something is likely to suffer or we'll slack up on one thing simply because we don't have enough time to do it all.
Consider how much you can juggle before committing to more than one internship. If procrastination, a bad work ethic, and a lack of time management describe you, then it can lead to major trouble down the road. And you do not want this to happen. Internships help to open the door for you to gain permanent employment and make you more marketable when sitting for those interviews.
The Passion
Passion can take you farther than talent ever will. It is easy to get caught up in what we think we should do, what someone else has told us we should do, what someone else is doing, and what we actually want to do. This is a trap that everyone faces and many people get stuck in.
Instead of choosing internships based upon their level of cool or because a friend is doing the same thing or because it "looks like fun," pick something that you will truly enjoy. People who truly enjoy their work find themselves eager to do it. It doesn't matter what part it is, they are excited to do it.
The thing you would do even if you did not get paid is probably your passion in life. On top of that, you will do a better job if you love what you're doing.
Discuss This Article
More Uloop Business Articles
COLLEGE INTERNSHIPS LISTINGS
See all COLLEGE Internships Listings
COLLEGE Internships Listings
GET TOP STORIES DELIVERED WEEKLY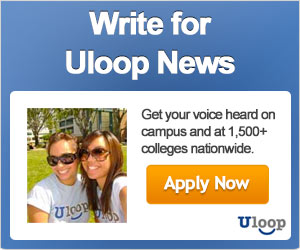 TOP 5 NEWS ARTICLES