Post Classifieds
Best Gifts to Get for Grad School-Bound Friends
This article is brought to you by Kaplan, the leader in test prep for over 90 standardized tests, including the GRE, GMAT, LSAT, and MCAT.
As an undergraduate college student, you relish in the gifts that your parents, older siblings, grandparents, and even friends give you. Those gifts come frequently especially from your pops and nana who are just so proud of their cutest sugar plum.
But let's face it, as a graduate or doctoral student, gifts are lovely every blue moon only if they are useful. While money may be at the top of your list or the only thing on your list, it isn't exactly going to leave an indelible mark on your mind or carve out a special place in your heart. "Money goes as fast as it comes," someone said.
So here are some gifts (some useful and others unique) that you might consider getting your graduate school bound friends.
Leather mouse pad
So I had one of these many years ago when I first started college actually and it has a nice smooth finish and a connecting piece that wraps around the desk so it doesn't move when you're moving the mouse on it. It comes in a variety of colors but most commonly black, brown and monochrome. ThisIsGround.com sells it for $50 bucks.
Pike travel tote
This is mostly for the female graduate student friend in your life. Many graduate students like to travel and often do so as part of their programs. This sturdy satchel-like bag with vegan leather straps will carry all of her essentials. One cool thing about this tote is that it is made by women in poverty-stricken countries of the world. So when you purchase one, you also support creative and entrepreneurial women in countries such as Peru and Uganda. The bag is beautiful and the payoff is too. It is available in eight colors from KrochetKids.org for $125.
Zojirushi insulated mug
Who couldn't use a better-insulated mug? This one is cool because its stainless steel vacuum insulation keeps drinks cold or hot for six hours. It fits in all standard cup holders and has a cool flip lid that you can open with one hand (while driving) and the lid has a safety lock on it to prevent accidental opening and spills. As an alternative to nonstick coating, this insulated mug has a "slick steel finish." It comes in several colors including smoky blue, lavender pink, plain stainless, and my favorite, black. It sells on Amazon for $45 and is sold by the company, Zojrushi.
Mont Blanc business card organizer
I can't say I know anyone who carries business cards anymore, but if your grad school friend is a little old school or perhaps a serious professional, this business card organizer might be a cool buy. Combined with leather and a total of six pockets, it is water, stain, and scratch resistant. It is available in several colors and sells for $145 at Montblanc.com.
Bartending glass set
Plastic red cups for your undergrad years were perfectly cool but now you've graduated a bit and need to step your happy hour game up a notch. Each glass teaches you how to make four different cocktails and features a different spirit. You can make up to 16 unique drinks with each glass holding approximately 8 ounces. It is available at Kikkerland.com for $21.
Miracle Cube timer
Lots of graduate students use a timer to keep themselves on track and focused on their work. This timer is great for meetings, appointments, homework, and even cooking. You can choose one of the preset times at 5 minutes, 15 minutes, 30 minutes, or 60 minutes and when time is up, an alarm will go off and you simply set it back to zero. It sells for $17 bucks from the creator Datexx on Amazon.
Echo Dot
Who doesn't want an Echo Dot? It's like a personal assistant. This hands-free, voice-controlled device does an array of different things. It connects to the Alexa Voice Service and can set alarms, read the news, play music, and control smart devices such as the home security system, thermostats, lights, and garage doors. Of course, the Echo Dot is a brilliant creation of Amazon geeks, is available in black, and sells for $39.
Feel Great laundry bag
This super cool bag puts the fun back into laundry, even for the guys. It is made from natural canvas and tied up with a black nautical rope. At 33 inches tall and 15 inches wide, you'll be happily swinging your clothes to the basement or the collective laundry room in your building and actually feel great about it, hence the name. And one bonus: you can give the bag a wash too. It is available at OwenandFred.com for $39.
The Little Book Of Confidence: Cool Calm Collected By Tiddy Rowan
Books like this are my personal favorite gifts to receive. And your graduate school bound friend will be grateful for the motivation and encouragement. After all, grad school is wrought with challenges and takes a lot of courage. This book will raise your level of confidence and remind you that you are tougher than you think. It is available at UrbanOutfitters.com for $9.95.
Learn more about Kaplan's test prep options and start building the confidence you need for Test Day.
Discuss This Article
More Uloop Entertainment Articles
COLLEGE HOUSING LISTINGS
See all COLLEGE Housing Listings
COLLEGE Test Prep Listings
GET TOP STORIES DELIVERED WEEKLY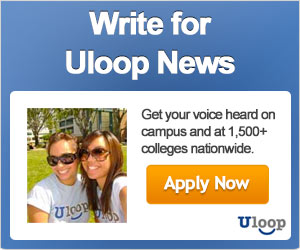 TOP COLLEGE NEWS