Post Classifieds
Still Need Gift Ideas? Nordstrom Is Selling a Rock
Struggling with what to buy your friends and family for the holidays? Not sure what gift is truly going to demonstrate your love and appreciation for the people in your life?
Well look no further — Nordstrom has answered your Christmas prayers.
That's right people, they're selling a very elegant, very much real, $85 rock. And it's been on sale since November 18 of this year, so it's no mistake.
The rock comes from a company called Made Solid (so you know who to blame) and again, I feel like I can't stress this enough, it's very real.
For those of you that don't believe me, or aren't sure exactly how much your friends and family would appreciate such a gift, check out the below blurb from "The Cut:"
"As Western society swerves ever closer to the brink of collapse, give the aesthetically minded doomsday prepper in your life a Christmas gift she can truly appreciate: an $85 rock in a leather pouch, now available at Nordstrom.
A rock is, of course, a classic tool dating back to the Stone Age, perfect for smashing store windows or wielding as a missile against oncoming attackers, while the sophisticated tanned leather pouch is a great way to set yourself apart from the more gauche members of the ravaging horde. Plus, it goes with everything."
Now if that's not enticing, I don't know what is.
All jokes aside, this is a very real item that you can definitely buy from Nordstrom's website.
According to a spokeswoman for Nordstrom, Brie Cross, "only Mother Earth can take credit for rocks" but the "Wrapped Stone" isn't a joke.
According to the company that made it, the rocks are "really cool, labor-intensive objects that are used as everything from paperweights to doorsteps to home/display accents."
And to shock shoppers further, they claim that the rock is "one of our most consistently popular items, actually." They went so far as to say that the last time they sold them at Nordstrom, they sold out.
And for you environmentalists, the company says they only buy from "select reps that can legally pull them from our local mountains for use in landscaping."
The "stone" (rock, for those of us that don't care) is sold in a leather case for a grand total of $85. For those of you that, understandably, are screaming "that's ridiculous" and "who could afford that," there's good news: the stone also comes in a smaller size for a measly $65! It's a steal!
So, for my sane readers wondering who in the world would buy this, and what in the world would they use it for, you aren't alone.
The internet is so confused by the sale of a rock at a clothing store. But Nordstrom has tried to explain itself in the description of its product.
In a description for the rock on the Nordstrom website, they say, "A paperweight? A conversation piece? A work of art? It's up to you."
In other words, "buy our junk and make up whatever reason you'd like."
They continue in saying:
"This smooth Los Angeles-area stone — wrapped in rich, vegetable-tanned American leather secured by sturdy contrast whipstitching — is sure to draw attention wherever it rests … A traditional hardening process gives the leather a beautiful ombre effect. Like all Made Solid pieces, this one is cut, shaped, sewn and finished by hand in artist Peter Maxwell's Los Angeles studio."
But the internet still isn't buying it.
Literally. And hopefully.
Many Twitter users immediately took to their accounts to inquire as to whether or not the $85 was a joke or if Nordstrom has truly lost its mind.
But it's not the Tweets that brought the most laughs. Instead, it's the reviews on the Nordstrom website making fun of the overpriced pebble.
And there was no holding back.
Here are a few of my favorites:
"I ordered the leather wrapped stone as a gift for my beloved girlfriend but when it arrive[d] in the mail I quickly noticed it wasn't as described. It clearly states that the stone was handmade but upon inspection one could easily discern many markings from factory machinery. I had it returned so they could ship me an authentic handmade stone. The leather was alright so I kept it and I found an organic GMO-free substitute in my garden to replace it while I wait for the new one to be shipped in the mail."
"This is the perfect holster for your slappin' stone. Even comes with a backup. It's a little pricey — but the sales lady told me the rock was made by hand. That's got to be difficult."
"Have to say that this is truly a beautiful product, but I had to send it back because there aren't any doggone instructions. I don't even know how to turn the flippin' thing on. I know you millennials know how to do all this techno stuff, but help some of us old guys out, would ya?"
"As a single mother, it is often difficult to put food on the table for my five children. However, when I saw this piece of rock, I couldn't help but to purchase this item. Yes, no one in my family will eat this month, however I have a piece of rock. The leather pouch wrapping the rock is just added bonus. I can't believe the rock is made by hand too! I was always told rocks were made through thousands of years of erosion, guess I was wrong. This just goes to show how flawed our education system is! (all of my children are home-schooled for this very reason!) I would definitely recommend this piece of rock to all of my friends and family."
"rock make all grak friend jealous best rock in village. rock work for hitting things. rock look nice in pouch to wear for hunt or night out with mrs grak. rock cost much but grak get what grak pay for."
"The perfect stocking stuffer for the naughty person that has everything! Forget the perishable potato of yesteryear 'Medium Leather Wrapped Stone' comes with a lifetime warranty so they can remember their misdeeds for years to come."
So if nothing else, this year, feel good about yourself. Nordstrom is selling a rock for $85. Successfully.
You can literally do anything you set your mind to.
Happy Holidays!
Discuss This Article
More Uloop Entertainment Articles
COLLEGE HOUSING LISTINGS
See all COLLEGE Housing Listings
GET TOP STORIES DELIVERED WEEKLY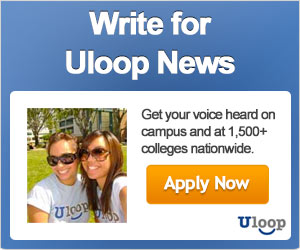 TOP COLLEGE NEWS