Post Classifieds
An Interview with "Dance Moms" Singer: Alexx Calise
If you've ever watched an episode of Dance Moms, you may recognize the singing voice of Alexx Calise. Alexx is the infamous singer behind the song Cry which skyrocketed to fame after being featured in a solo for Maddie Ziegler.
Alexx has been featured on the show numerous time, providing songs for group dances and solos, but also appearing in episodes, such as the season six finale of Dance Moms where she sang with Nia Sioux and Kendall Vertes.
After publishing my last article, Alexx contacted me on Twitter and asked if I would like to do an interview. Clearly, I jumped at the chance. Here is a transcript of Alexx's tips on writer's block, her motivations, and how she keeps her head in the game.
You recently released your new single, Breathe. What was your inspiration for the song and can you explain how this song differs from ones that you have previously recorded and released?
I have been seeing a lot of negativity — especially on social media — as of late. Sure, some of it has been inspired by the election I suppose, but it's just something I've noticed in general. We're all so divided now, or at least we're led to believe we're so divided by the media. I've never seen it as bad as it's been.
In actuality, I think we all have a lot more in common than we think. What's funny is that any time I actually sit down with someone, no matter how polarized our views may be, there is always some kind of common ground, and there's a lot we can actually agree upon. There have been a lot of times recently that I've felt consumed by that negativity that's been swirling, and it's taken me down. I think a lot of folks have been feeling that way recently too.
Sometimes, you need to take a step back and remember to breathe. Everything's going to be alright. You just need to surround yourself with people who love you, and you need to keep continuing to "fight for that light" I suppose, especially in darker times like these. This song is quite different from my previous material, because it's actually a bit on the lighter side. I've always written about darker themes because music is intensely therapeutic for me. Music is where I get that darkness out. Since things in the world have been so dark however, I felt the need to write something more uplifting, to give people, including me, some hope.
You seem to have a very close relationship with the girls from Dance Moms; Nia Sioux is in your most recent video Breathe while Maddie Ziegler was in Cry. What's it like working with them and what is the process behind collaborating with them?
I've been so blessed to work with such talented girls as Maddie and Nia. They're both such professionals, and they can handle literally anything you throw at them. Gianna Martello, the super talented gal who choreographed both Maddie and Nia in my videos had so little time to choreograph routines (she came up with a routine for Maddie on the plane ride over to LA when they flew here for Cry, and she choreographed Nia's routine after hours and in-between rehearsals at ALDC), and the dances came out beautifully. I found it amazing that all she had to do was call out dance terms to them when they were rehearsing, and both girls knew exactly what she was talking about, and they just did it. That was pretty cool to watch.
What I also appreciate is how involved their families are with them as well. Both Maddie and Nia's families are so classy, wonderful and supportive. They want nothing but the best for their kids. It's really a beautiful thing to see and be a part of, and I can really relate because I also have very supportive parents. I can't say enough good things about the both of them, and I think they're going to have long, fruitful careers.
Your music has been featured on the show many times. Do you have a favorite piece that has been choreographed to your music?
Maybe because it's the first dance anyone did to any of my songs, but my favorite has to be Maddie's  "Cry" solo. I was so moved by Maddie's performance when I first saw it on Dance Moms. She is just so fluid with her movement, and she just has so much soul as a dancer. When she's not dancing, she's dancing.
I remember when she was staying with me in LA that she was constantly stretching or doing twirls or something dance related at all times. That's what it takes to be great. It's really no wonder she's one of the most sought after young dancers in the world now. She literally moved everyone to tears — even the director — when we filmed "Cry." She is one in a million.
Since you write your own material, I'm sure you have writer's block every now and then. How do you deal with it? Do you have any tips and tricks that you use?
Absolutely. Normally what I'll do is come back to it if I'm not coming up with anything great. I have so many other half finished songs, that I'll either go back to one of them, or I'll just write something completely new. I'm lucky in that I always have something to say (as you can tell by my long winded answers, haha!).
My thing is, if I'm not moved by it, then I know no one else would be. That's my meter. If it's not making the cut, move on! Don't force it.
What do you feel has been your biggest accomplishment so far and how has it impacted your career?
Appearing finally on Dance Moms this past week has been a big accomplishment for me. I was really touched that they invited me onto the show after all these years. They've probably used eight songs or so of mine now with their routines, so it was pretty cool to actually perform live on the show. They really did a nice job of explaining my connection to the show, and they really painted us in a good light.
I was so grateful for the opportunity, and for getting a chance to work with Nia and Kendall, who are both very talented. Here's hoping that appearing on the show will help me move into another phase of my career, but if not, that's fine too, and I'm just very grateful for the opportunity. The most important thing is that we had a great time. That's what life is all about.
Your sound is unique: combining rock element with pop and a voice that is different than what you hear on the radio. What artists have influenced your work?
Well thank you. I'm actually heavily influenced by blues and grunge. I grew up listening to Stevie Ray Vaughan, Kenny Wayne Shepherd, Johnny Lang, Silverchair, Soundgarden, Stone Temple Pilots, and The Toadies. I always gravitated for whatever reason toward male artists. There were only a few female artists who I felt could "hang" so to speak, like Janis Joplin, Sheryl Crow, Susan Tedeschi, Beth Hart.
I'm really into soulful, heart wrenching, desperate sounding, howling vocals and crunchy, distorted guitars. The biggest influencer on me though has to be Silverchair. They've been my favorite band since I was in the 6th grade.
You've been pursuing music since you were 11. What keeps you motivated and how do you stay focused on goals?
It's all I know how to do and all that I want to do. Really, if you can picture yourself doing anything else, do that. This is a career for insane people. It's not for the faint of heart. It's fraught with struggle and sacrifice, usually poverty. I do this because it's in my blood and bones. Life alludes me, but I come alive when I play music. That's how I know I can't do anything else. I'd only be half a person.
Can you tease fans about upcoming projects that you are working on?
Sure! Lots to tell. I just started a label, Bearkat Collective, with my songwriting partner, Dennis Morehouse, so that's been taking up quite a bit of my time. Dennis and I will also be releasing our first single in over five years with our other band, SOC. It's a cover of the nineties hit, "6 Underground" by Sneaker Pimps. You'd dig the music if you're a fan of The Cure, Nine Inch Nails, Pink Floyd — it's much different than my solo material!
I may also be doing some songwriting with some other familiar folks you may know soon, so stay tuned!
Discuss This Article
More Uloop Entertainment Articles
COLLEGE HOUSING LISTINGS
See all COLLEGE Housing Listings
GET TOP STORIES DELIVERED WEEKLY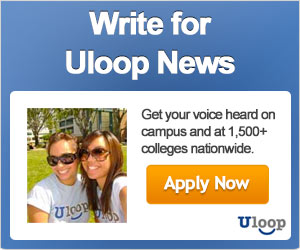 TOP COLLEGE NEWS