Post Classifieds
Quizlet Relaunches with New Features
Quizlet, the popular and powerful study application that we all know and love, has just received a face lift. "We've been hard at work over the summer," says Quizlet CEO Matthew Glotzbach. Indeed, the Quizlet crew has been hard at work transforming and modifying all parts of our beloved study tool for the benefit of over 20 million regular users. These three main changes are: a complete visual redesign, updated mobile applications, and an international expansion making Quizlet user-friendly to more than just English speakers.
The website has received an entirely new visual design, giving it a more modern and accessible feel. "Our goal was to increase the ease of use while making studying a great and fun experience," said Glotzbach. The once familiar blue interface has now been replaced with vibrant purples and whites.
The application is set to become more accessible for mobile users as well. "We're interested heavily in the Android platform," says Glotzbach, "Quizlet Plus is not currently available for Android but we're working and investing to get that going too."
Quizlet is also working to become more user-oriented. "Our goal is to find out how we harness the world's knowledge to help anyone learn anything," says Glotzbach, " We see value in helping students make more useful and efficient use of their study time." The application will soon be working with users to establish a plan to study more and point out areas where students can improve their understanding of a subject or concept. "You'll continue to see us become more assistive and more guiding as time goes on," says Glotzbach
Quizlet's newest feature, Quizlet Live has also experienced a few updates. The beta model was launched earlier this year and had a great success, having over 100,000 classrooms use it. Quizlet has added some new features including the ability to continue study games with the same teammates, the ability to automatically and randomly generate teams, and a new audio feature, allowing teachers to add audio content to the study games.
The hugest change to the Quizlet application is its international expansion, making it available in seven different languages, including Chinese (both traditional and simplified), German, Spanish, Japanese, and UK English. "We're focused on how to make the website great to the non-English speaker," says Glotzbach, " We're making it so that the games and study tools can apply to different grading systems as well." For instance, teachers and students communicate with different levels of formality and also, not every country grades tests and assignments on an A to F scale.
So, is the Quizlet team throwing in the towel and deciding to call it a day with a satisfactory product? No way!
"Quizlet has been growing fast for over a year and we expect it to accelerate even more as it becomes more accessible," says Glotzbach, " There's a universal need that Quizlet fills. Everyone has the need to study and learn. Quizlet will continue to grow as well."
Discuss This Article
More Uloop Technology Articles
COLLEGE HOUSING LISTINGS
See all COLLEGE Housing Listings
GET TOP STORIES DELIVERED WEEKLY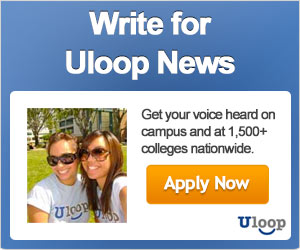 TOP COLLEGE NEWS