Post Classifieds
The Bees are Vanishing
There is a crisis in the United States where bees are quickly disappearing with no solid explanation as to why. Theories abound, but no single theory can fully explain Colony Collapse Disorder. This is a troubling and puzzling phenomenon as bees are an excellent indication of atmospheric and environmental problems. A bee keeper David Hackenberg of Date City, Florida is the man who is credited with initially noticing this problem and trying to put it in the public spotlight. Hackenberg is a man who is dedicated to understanding bees, harvesting quality honey, and bringing attention to environmental problems that are affecting humans and nature alike. It has been theorized that pesticides are one of the main causes of CCD, as well as the root of many environmental issues affecting people. He and a group of like-minded bee keepers are fighting every day to keep their bees safe, honey pure, and working to stop the use of harmful pesticides.
Colony Collapse Disorder is the sudden and unexplained disappearance of entire colonies of bees, sometimes even including the queen. In this tragic circumstance majority of any remaining bees are dead. One particular bee keeper in Illinois experienced a loss of 40,000 colonies within a matter of weeks. This is an astounding amount of loss when there is no obvious evidence of disease or environmental disturbance. In the United States there have been 35 states affected by CCD. None of which have a solid explanation yet.
It was initially theorized that Colony Collapse Disorder could be a result of fungal bacteria, mites, or a paralysis virus. These conditions were only discovered in a small number of bees within a particular colony destroyed by CCD, and therefore it was determined one single instance of these factors could not have been the sole cause.
Another theory about the bees disappearing comes from the use of artificial ingredients used to feed the bees. Some bee keepers feed their bees sub-par food and they enhance the honey with sugars. Through this practice the honey that is being created by the bees is being prepared in the same manner as completely natural honey, but the end product is a risky mix of fake sugars and pesticides. Nature is attempting to fight and overcome the artificial practices, which are resulting in dead bees in large numbers.
The best theory for CCD that has been researched so far, is the use of pesticides in nearby farms. Many experiments and tests have been run to evaluate the severity of pesticide effects on animals and humans—particularly children. It was determined that majority of pesticides are in fact dangerous to small children, and that it is very probable they are even more dangerous to animals and insects with smaller bodies. While pesticides are not used specifically to target bees, they are being indirectly affected through the process of pollination. A bee can pollinate up to 100,000 plants per day and it can be anything from apple trees to flowers, tomato plants, or even almond plants. Many of these foods have been grown from seeds treated with pesticides that are systemic—meaning the plant contains trace amounts of the pesticide for the length of its life. Pesticide spray usage has been mostly banned from farms across the United States for their immediate effects on nearby animals and people. Systemic pesticides were created and deemed much safer since they create no clouds of poison in the atmosphere, and even considering their remaining inside a plant for life, it is considered not dangerous by the FDA.
The Food and Drug Administration is not at all concerned with pesticides showing up in our food as they were supposedly tested prior to their initial use. It was after years of use that it was discovered the chemicals in the pesticides are in fact harmful, especially to bees, and this was discovered after closely monitoring the behaviors of bees during pollination. An experiment was done observing bees sucking nectar from flowers grown with pesticides and comparing to those grown without (or, organically). It was discovered that when bees sucked nectar from flowers whose seeds were treated with pesticides the bee became disoriented, flew crookedly, and had a harder time finding its way back to the hive. Bees sucking nectar from natural plants used a very systematic and organized method. They seemed to gain energy from the pollen and head back to their hive quickly while flying straight and methodically. As previously mentioned, the behavior of bees is an excellent indication of something being awry. Scientists and bee keepers alike agree that pesticides are affecting the bees negatively during pollination and after the pollen is put into the hive, the pesticides are transferred into the honey. One exposure to pesticides through pollination, while disorientating, will not kill a bee. It is the repeated exposure that is slowly killing the bees. Through each individual exposure to pesticides trace amounts build up in the bees' system causing their cognitive function and health to slowly go downhill.
According to farmers and pesticide companies, monocultures require intervention in order to survive in the current state of the ecosystem. Pesticides keep away the insects that prevent organic farming. It is theorized that the Environmental Protection Agency is agreeing with this statement because they financially profit from the use of pesticides; the companies using the pesticides pay to keep the EPA funded. Therefore, it would seem that the whole system is less about protection and more about financial incentives. In the eyes of the beekeepers the system is corrupt and needs to be overhauled. There are many farmers dedicated to maintaining a farm with use of only natural means to keep bugs and pests away and these farmers are teaming up with the beekeepers to get the word out about the dangers of allowing all farm systems to become tainted by poisons. The hardest part about this situation is finances. Small time farmers and beekeepers who are trying to make an honest living by growing and harvesting the natural way are being either bought out or put out of business by the large farming corporations, thereby indirectly forcing them to participate in non-organic farming. Very few all natural farms still exist today.
Beekeepers protect their hives, nurture their bees and value each member of the hive for their job within the colony. The queen is the centerpiece of the hive; she is the largest bee and the one with whom other bees mate. Drones are the males who stay within the hive working on the honeycombs and the workers are females who go out to pollinate plants and flowers, returning with pollen for the hive.
Bees are considered pests by most since they crash picnics, build hives in inconvenient places, and have the potential to sting-which is never a pleasant feeling. But, environmentally bees play a huge role in helping crops flourish, and they are excellent indicators of problems in an ecosystem since they are so sensitive to changes. Looking back into history, many decades ago bees were considered omens; an indicator of what is to come. Even today, bee keepers know the value of their hives and the residents of those hives. They are fighting to protect those hives and the bees within them.
Honey that bees produce naturally is known to ease the discomfort associated with many ailments such as sore throats and allergies. This is especially effective when local honey is purchased since it is created out of the pollen which people have allergies to. Majority of the honey currently being produced is found to contain traces of pesticides that are slowly working their way into the bees systems during the pollination process, and then are making their way into human systems during the consumption of honey. It is important to realize how serious this problem is now and try to put a stop to it before all of the bees die off, and before there is no such thing as all natural products anymore.
It is common to hear from philosophers and those who are not environmentally conscious that God gave humans domain over the earth and he told us to subdue it. They take that in the most literal manner possible by using irresponsible and unnatural means for their own personal gain. This can be seen with fish being depleted from oceans and streams, elephants being killed for their tusks, and entire forests being cut down. Furthermore, natural foods are being poisoned and chemicals are showing up in everything we eat and topically use on our bodies. We are all helpless in the world of big business since they are the ones who buy out small farms, and they are the only ones who are able to afford to skirt the lines of legality by not reporting all ingredients they use in our everyday products. For me, the biggest issue is that science is messing with something that does not deserve to be messed with. Nature has no defenses against the harm we are inflicting upon it. Being given the "right to rule the earth" does not, in my opinion, mean we are allowed to destroy it and abuse it. I would like to see society take a turn towards supporting the natural processes of earth. The only way to save the bees, small farms, and to slowly get earth back to its natural glory is to respect it and enhance what has already been given to us. We can all buy local at farmers markets, pay attention to food labels, and change our everyday habits to better help the earth. It would be fantastic to know humans have stopped trying to intervene with natural processes, and begin to learn to live with earth instead of going against it.
Source:
Vanishing of the Bees, Dir. Ellen Page, Perf, David Hackenberg, Bret Adee, Dennis Cardoza. Long Live the Queen, 2009. Viewed on Netflix
Discuss This Article
More Uloop Health Articles
COLLEGE HOUSING LISTINGS
See all COLLEGE Housing Listings
GET TOP STORIES DELIVERED WEEKLY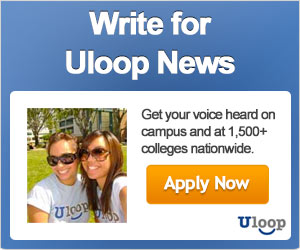 TOP COLLEGE NEWS