Post Classifieds
#FreeTheNipple And Feminism
If you've been on the internet lately, you may have noticed that some women are uploading topless pictures of their breasts, nipple and all, to sites like Facebook, Twitter and Instagram, and captioning them with the hashtag #FreeTheNipple.
One the front lines of this campaign is former Disney star turned full-time provocateur, Miley Cyrus, who Instagrammed a picture of herself with her areola peeking out under her arm just a few hours before I started writing this article (it has since been taken down).
Well, it's almost 2015, so I automatically assumed it was some sort of new, trendy feminist movement sweeping the social media circles by storm, so I began to do some investigating. I was right. A good sum of the girls who are snapping and uploading these pictures are also claiming it's because guys can go topless all the time and in many public spaces, while chicas are extremely limited in their options.
I got that.
But here's the part that blew me away: this movement has been around for almost a year already, and there's a film (aptly titled "Free the Nipple") that was released in December of this year.
According to the film's IMDb website, "An army of passionate women launch a revolution to 'Free the Nipple' and decriminalize the female body."
In fact, Miley was actually already posting #FreeTheNipple Instagram pics since this past summer.
While we're still on the topic of female toplessness, theres even a group called GoTopless, which advocates women going, well, topless, all in the name of gender equality. It's definitely true; guys can go topless and show their areolae on TV, the Internet, social media, movies, etc. and nobody really bats an eye while for women, that kind of stuff is extremely monitored by the FCC, the MPAA, the internet and social media platforms.
So being a guy, I never really gave feminism that many waking hours of thought, but this new #FreeTheNipple movement really got me thinking: is this really the direction that feminism is taking now?
You see, up until this point, I think many people were scared to label themselves as "feminist" even if they actually were one. My guess is that there's some sort of negative connotation to it, sort of like calling yourself a "man-hater" or even a "lesbian" or something else radical like that.
I remember being dragged along to a feminism seminar this past semester at school and hearing this ridiculous story about how the speaker (who was male) held open a door for a woman, who was a feminist, and she just stood there looking at him, not even blinking an eye. He continued holding the door open, but this time, gently added the words, "After you, miss." She continued standing there, to the man's confusion. Finally, they both walked inside and she asked him, "Why did you hold that door open for me?" Now this guy's mind was just totally blown and he didn't know what to say. She continued, "Is it because I'm a woman? If that's why, I just want you to know that I am fully capable of opening a door for myself. I appreciate your kindness, but that just shows you still think that because I'm a woman, I'm too weak to do these things for myself."
When I heard that story, I was pissed. I hold doors open for people, men and women, all the time, and it's never because I look at them as being too "weak" to do it themselves; rather, I'm just going out of my way to be courteous to someone.
But still, that story really made me angry at feminism. It seemed to me that feminists, in an effort for gender equality, much like that woman in the story, actually divided themselves even more by acting in that way. But these past years, and 2014 especially, have been great for feminism, especially with high-profile women like Miley and Taylor Swift publicly labeling themselves as "feminists" to the masses.
Remember when Beyoncé included a snippet of Nigerian writer Chimamanda Ngozi Adichie's "We Should All Be Feminists" speech in the middle of her song "Flawless"? You know, the one that called out the gender imbalance between girls and guys and included this part: "Feminist: a person who believes in the social, political and economic equality of the sexes."
Don't get me wrong, the song goes hard, and I agree that your gender should never be a factor into how much you're paid for doing the same work as someone else. But to me, you can go about all of that without being, well, a bitch, like the chick in the story I just told you. *Cue all the "This is why we need feminism – he called her a bitch!" shouts from the neo-femme army.
It's not like that though.
I don't hate the ideology behind feminism, I just dislike how feminists go about getting that ideology out, and particularly, by labeling their beliefs as "feminist."
To me, everybody, guys and girls, should strive for gender equality. The connotation of "feminism" to me sounds like people who support it think males are the superior gender and they want females to take their place. But that doesn't create gender equality, does it?
It's awesome how far we've come as a country in terms of gender equality, and even on a more international level as well. Going back to the #FreeTheNipple campaign, I think it's a great idea for women to express themselves on a larger scale and celebrate their bodies using one of the best resources we've got in this day and age (social media).
I get it, the female body is extremely censored and sexualized in today's society, and I, along with many people I'm sure, would be taken aback to see a woman with her nipples out at the beach as opposed to a shirtless guy at the same beach. That's why I think the timing is just not there yet for women's breasts to be out in public in this day and age.
Don't be mistaken; as society progresses, so does the ideology of its people. That's why I'm predicting that one day, it will be perfectly normal for a woman to be topless in public (where it's appropriate to be, at least). And that's not a bad thing.
I respect the women who participate in #FreeTheNipple for the right reasons (meaning not as an excuse to embarrass your father). It's a great first step into creating that gender equality they're ultimately striving for. I just don't know if the world is ready for it yet.
I don't think that we as a society aren't; I'm saying I'm not sure if we are or not. But who knows? Maybe this campaign will actually take everyone by surprise and carve the path to a more equal world for both sexes. It's already taking much of the internet by storm right now.
I won't deny that me being a guy definitely has influenced my way of thinking about this topic, and I'll be the first to admit I am not the most well-versed on feminism (which I do think is the wrong label). But I will say that there has never been a more exciting time for gender equality, and if #FreeTheNipple can help bring that to the forefront of everybody's minds, then I say go for it – take your top off!
Discuss This Article
More Uloop Entertainment Articles
COLLEGE HOUSING LISTINGS
See all COLLEGE Housing Listings
GET TOP STORIES DELIVERED WEEKLY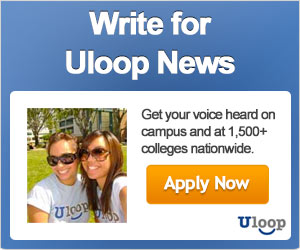 TOP COLLEGE NEWS