Post Classifieds
DIY Beauty Products To Try Now
This article is brought to you by CORT, a subsidiary of Berkshire-Hathaway and the world's largest furniture rental and relocation services company. To learn more about how we can help college students like you, click here.
These days Pinterest is stock full of DIY beauty hacks which now makes it possible to create just about any beauty product you need on your own, in the comfort of your own kitchen.
The great thing about these at home beauty products is that they are often times cheaper than what you would find in a store and they are more natural than other commercial products.
So whether you're looking for something more organic, or are just looking to save a couple dollars when it comes to your hair, skin and nails, making your own products is a great way to go. Here are some of my favorite all natural, DIY beauty products you should try.
DIY Healthy Face Moisturizer
Face products are a great place to start when making your own beauty products. You have complete control over what you put in them, so if you know you're allergic to something or if something makes you break out, you can simply just not include that ingredient.
Given that your face is what people notice, we all want it to be looking its best, which means there is no time for breakouts and allergic reactions that could potentially come with a store bought product.
This moisturizer recipe comes from the blog saynotsweetanne.com and you will find how to make it there. The ingredients needed are:
*1 cup of aloe vera
*¾ ounce of beeswax (For the beeswax, be sure to buy the type meant for cosmetics and not candles.)
*¼ cup of almond oil
*¼ cup of coconut oil
*chocolate/soap melter
*10 drops of your favorite essential oil
*a blender.
Also, when it comes to essential oils, there are tons of options and they all do different things. It is important to do a little research and test it out before you include it in your moisturizer because you could end up with some unwanted effects or an allergic reaction.
Geranium oil does just about everything. It is good for dry skin, oily skin, sensitive skin and reducing acne and wrinkles. Some other good oils to try would be Cedarwood for dry or acne prone skin or Orange for oily skin and reducing wrinkles.
The great thing about this recipe's inclusion of essential oils is that you can cater your moisturizer to your personal needs, which can be hard to find in store bought moisturizers.
DIY Sea Salt Spray
During the summer, beach waves are a lot of people's go-to hair style, but with this DIY Sea Salt spray, it's possible to rock the perfect beach waves all year long. This recipe from Pinterest is so simple and so much cheaper than what you'll find in the stores given that all of the ingredients are stuff you probably already have either in your kitchen or bathroom.
All you need for this spray is:
*1 cup of warm water
*1 tablespoon of sea salt
*1 teaspoon of coconut oil
*1 teaspoon of hair gel.
Mix all of these together and then spray generously into your hair and you'll have yourself the perfect beach waves.
DIY Lip Scrub
The cold, dry weather that the winter months bring are known for doing some serious damage on our lips. This DIY Lip Scrub is perfect for combating that. Much like the sea salt spray, this recipe is one of the easiest DIY beauty products you can make, and it's also one of the most effective.
Grab a tablespoon of coconut oil and a tablespoon of honey and mix them until they are all one liquid. Next, add two teaspoons of brown sugar, mix again and there you have it. Believe it or not, this is all you need to do to create your own lip scrub. Your dry lips will be thanking you come November!
DIY Deodorant
Now a DIY deodorant may have you feeling a little nervous and wondering if it actually works, but a bunch of Hollywood stars are buzzing about making their own organic deodorant, so it may be worth looking into.
To make this deodorant, the ingredients you need are:
*1/3  cup of baking soda
*½ cup of arrow root
*5 tablespoons of coconut oil
*5-10 drops of essential oils of your choosing.
Much like the moisturizer, choose your essential oil wisely because they all have different effects. Some good ones to look into are Sandalwood, Basil and Rosewood. These essential oils are all good given their antibacterial properties. Bacteria is what causes your sweat to smell, so these essential oils will help combat any odor.
Not only do all of these do it yourself beauty products cost less than their commercial competition, but they also include all natural ingredients which are great for your skin and hair. Plus, making them is always a lot of fun so don't be afraid to try out these recipes for yourself!
Looking for a more convenient way to furnish your off-campus apartment? Rent stylish furniture from CORT and save time and money. For more information on furniture rental packages, click here.
Discuss This Article
More Uloop Fashion Articles
COLLEGE HOUSING LISTINGS
See all COLLEGE Housing Listings
GET TOP STORIES DELIVERED WEEKLY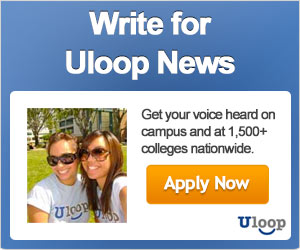 TOP COLLEGE NEWS